Gyms are closed, studios have temporarily shut their doors, and quarantined Californians must find creative ways to do their favorite workouts at home. The good news is that now more than ever, countless fitness options are easily accessible within the comfort of home. Whether you're aiming to break a sweat, stretch out tight muscles, or simply get your body moving, check out the list below to find a workout that suits your goals!


1. Yoga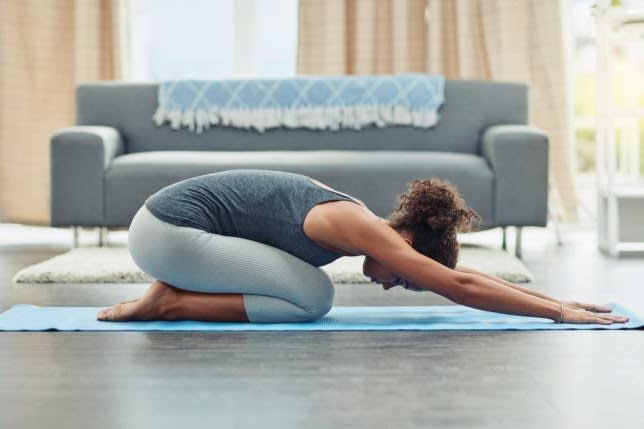 Image courtesy of Metro website
With little to no equipment necessary (think: water, a yoga mat, or simply a towel), yoga is an ideal at-home activity. Yoga's extensive physical and mental benefits range from building balance, bringing attention to breathing, and increasing flexibility and strength into a physically challenging (yet meditative) practice.
Thanks to an abundance of online options, yogis no longer need a studio to continue an ongoing personal practice or give it a try for the first time.
Think yoga is only about "slow flows" and stretching? Think again.
Corepower Yoga
infuses familiar yoga sequences into a workout complete with upbeat music, weights, and cardio.
With over 200 studios scattered throughout the U.S., Corepower has grown a strong following of enthusiastic yogis hungry for heart-pumping, sweat-inducing classes. Yoga Sculpt, one of Corepower's most popular classes, boosts metabolism and builds lean muscle through traditional yoga postures, cardio bursts, and strength-training moves such as squats and lunges.
For a limited time, Corepower is offering free classes
on demand
. Choose from videos ranging from quick 20-minute workouts to 60-minute classes including C1 (Vinyasa yoga fundamentals), C2 (CP's signature class for strength, balance, and detoxification), Hot Power Fusion (a class focusing on core and upper body strengthening and flexibility), or Yoga Sculpt.
Tapping into YouTube's seemingly endless selection of yoga workout videos, you'll find the perfect flow to suit any yogi's experience level. Two popular Youtube yogis include
Yoga with Adriene
and
Boho Beautiful
.
With nearly 7 million subscribers, Adriene Mishler's YouTube channel offers hundreds of videos focused on "finding what feels good" in her viewers' yoga practices. Her videos are tailored for specific targets—from flows for various types of athletes and routines aimed at reducing chronic pain to deep core workouts and meditative relaxation, her endless collection has something for everyone.
Produced by world travelers Juliana Semenova and her partner Mark, Boho Beautiful's videos feature challenging yoga and Pilates workouts set in the most visually striking destinations around the globe. Even when confined to the walls of your home, you'll feel like you're on an exotic getaway while flowing to their videos.
If you're looking for a local studio,
Soul of Yoga
, a favorite among San Diego yogis, is now offering their signature classes right at your fingertips! Known for their wide variety of yoga classes (Hatha, Kundalini, Yin, and Vinyasa flow, to name a few), all classes are now available
online
. Yogis can simply enroll via the Soul of Yoga website or mobile app and will be provided with a video chat link prior to each class. New to the studio? The first online class is
free
for anyone desiring the deep relaxation of a restorative flow class or curious to try a Tibetan bowl sound meditation.
2. Spin
Image courtesy of Peloton website
Finding early popularity as the go-to fitness fad of the early 90s, spinning studios have been a staple in California neighborhoods for decades. From
Soul Cycle
to
Peloton
, spinning is experiencing a modern-day facelift, and fans can't get enough of the high-energy, calorie-torching workouts!
Although all Soul Cycle locations are currently closed, the sweat-dripping classes are being brought into homes in collaboration with
SiriusXM radio
. Spin-lovers can now access a wide selection of classes (both on-demand and daily scheduled options are available) guided by Soul Cycle instructors through the SiriusXM website.
Choose from familiar cycling favorites or try a brand-new class. Don't have a stationary bike of your own? No problem! Soul Cycle offers
"off the bike"
workouts ranging from toning bodyweight exercises to fun dance classes.
Widely known for its high-tech stationary bikes and live video classes, Peloton is perfectly tailored to meet the needs of any at-home athlete. For owners of Peloton's impressive
bikes
and
treadmills
, a variety of amenities are available, including live daily classes where followers can motivate each other through virtual high fives, an on-demand library to get a workout in any time, and a diverse collection of classes.
You don't need a bike or treadmill to access Peloton's expertise and health benefits. The company is currently offering free 90-day trials of the
Peloton app
to anyone interested in pursuing their fitness goals. App users will find a range of indoor and outdoor class options, boot camp-style workouts, and low-impact stretching guides!
3. HIIT
High-intensity interval training, commonly known as "HIIT" workouts, is proven to quickly increase heart rate and provide lasting calorie-burning benefits for several hours after completing a workout.
Orangetheory
is publishing at-home workouts and tips for specific exercises on their website and mobile app, and both members and non-members can participate in challenging themselves to achieve their fitness goals. Participants are encouraged to share photos and videos of their Orangetheory workouts on social media to continue to motivate themselves and their peers to stay active!
YouTube is a treasure trove of workout videos and creative ways to care for your body. HIIT workouts are no different, and popular channels such as
Fitness Blender
,
PopSugar
, and
Natacha Oceane
offer some of the best.
Run by a husband and wife team, Fitness Blender's YouTube channel features over 500 full-length workouts. Many focus on quick-twitch, heart-pumping
HIIT workouts
. Most videos require either very little or no equipment and include bodyweight exercises, jumps, and static holds. All of their routines can be modified with low-impact options, and all can be done within a small space.
With a devoted following of over 4 million subscribers, PopSugar is a powerhouse in the home workout game! Viewers can choose from hundreds of videos featuring celebrity trainers and fitness experts teaching HIIT, cardio, dance, boxing, yoga, and Pilates workouts. The channel also offers fitness tutorials and week-long challenges to keep its audience motivated. Choose from their long list of no-equipment, full-body
HIIT workouts
!
Natacha Oceane creates videos promoting an overall healthy lifestyle and self-love. But don't be fooled—her
HIIT workouts
are no joke! Completed in as little as 15 minutes, her unique workouts will keep your fitness routine interesting and challenge your body in new ways.
4. Pilates
Image courtesy of Pilates Lounge
When you think of a Pilates workout, you might imagine people on mats doing crunches and some planks. If you haven't given Pilates a try before, you probably underestimate the transforming impact of these deceivingly simple routines. Pilates utilizes unique bodyweight movements that torch fat and target muscles you didn't know you had!
Founded by energetic Pilates instructor Cassey Ho,
Blogilates
has both a website and YouTube channel dedicated to endless workouts incorporating toning Pilates movements. Cassey's website also features blog posts, healthy recipes, and tips for staying healthy while in quarantine. Check out one of her popular videos
here
.
Gaia
, formerly GaiamTV, offers a collection of Pilates videos on its website, and its selection includes videos by Mari Winsor of Winsor Pilates. Choose from glute or ab-targeting sequences or start your morning with one of Gaia's Pilates flows for an entire day of benefits!
5. Barre & Ballet
Image courtesy of the Pure Barre website.
The stereotypes around ballerinas often conjure up images of dainty dancers in pink tutus, but don't be fooled—those dancers are strong athletes who make elaborate and physically challenging movements look effortless. Barre consists of subtle exercises inspired by the long, lean muscles of dancers.
Pure Barre
's "barre at home" series is offering one week of unlimited live-streaming classes to new members. The low-impact workouts offer numerous benefits, from improved cardiovascular health to total body muscle strengthening. Oh, and long, lean dancer's legs aren't a bad benefit, either!
Tiler Peck
, a principal dancer with the New York City Ballet, has provided her followers with daily ballet classes on her
Instagram story
. Aspiring ballerinas and anyone searching for a rare class taught by an accomplished professional should leap at the chance!
Interested in additional information on the health and wellness scene in the San Diego area? Contact
K. Ann Brizolis & Associates
today. With years of experience in the San Diego luxury real estate market, she can answer any questions you have about the
local communities
. Whether you're looking for
Santa Luz homes for sale
or
Rancho Santa Fe real estate
, the K. Ann Brizolis team's expertise can help you find the perfect piece of San Diego luxury
real estate
.