What's New in Home Design This Year
After a challenging year, it's no surprise that San Diego's home design trends have been affected by the same changes and struggles we've all experienced. Design is trending toward the practical as people spend more time at home than ever and are looking to utilize every square foot of space.
Read on to learn more about some of the hottest trends hitting San Diego as we move further into 2021!


1. Minimalist
A minimalist style is becoming increasingly popular these days, with people striving to keep their homes neat and free of clutter. Especially during a year when family homes functioned as a workplace, schoolroom, and living space, it makes sense that homeowners are looking for ways to keep their lives organized.

Some of the minimalist style hallmarks include clean lines, an open floor plan, and lots of natural light. Each piece in the room should serve a distinct purpose, whether that's a dining room table with chairs where a family will enjoy their meals, a fireplace to give off heat, or large windows to bring in plenty of sunshine. In a minimalist home, there are no extraneous items or furniture pieces.

Minimalist homes will also be clean and meticulously organized; after all, one of the characteristics of minimalism is simplicity, so a desk packed with random items is about as far from the hallmarks of this style as you can get. A minimalist kitchen will feature plentiful cabinets where your appliances, like toasters and coffeemakers, can be stored. This keeps your countertops looking pristine.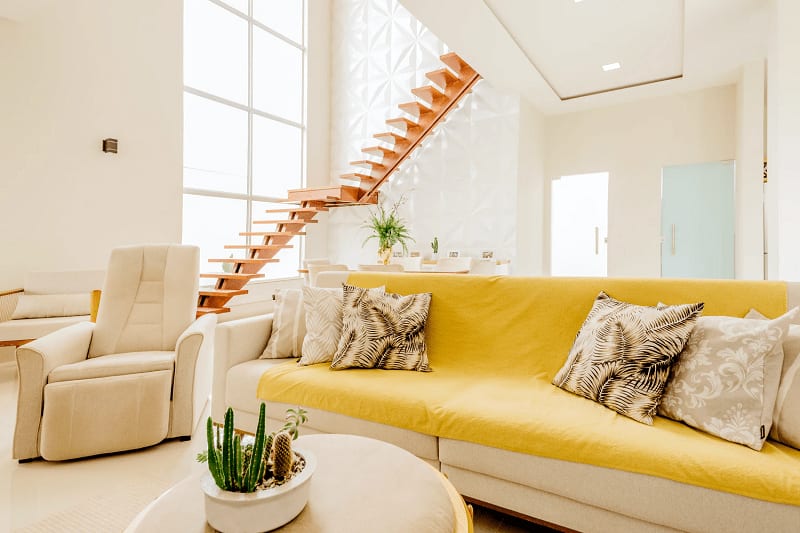 2. Cheerful Color Palette
After a challenging and depressing year, it was a delight to everyone when Pantone announced their 2021 color of the year: a bright, optimistic yellow. In general, designers have seen a growing preference for other happy colors like pretty pinks and upbeat oranges. Pastels are popular as well. It seems clear that homeowners are looking to make their homes more welcoming and pleasant spaces to inhabit; after a year of staying inside and staring at bland walls, many even embarked on mini home renovation projects, replacing drab colors with more cheerful ones.

While this may seem counterproductive, blue shades are also trendy. Pantone's 2020 color of the year was a simple, classic blue, and this deep and rich color has remained popular even as we move further into 2021. Blue can easily make a room more peaceful and relaxing when paired with gold highlights or light shades of yellow. It makes an excellent choice for a bedroom and can help you wind down after a stressful day.


3. Fun New Features
More and more people receive the COVID-19 vaccination every day, meaning that we're moving closer to normal life. But even as the days of intense quarantining begin to fade, homeowners remain focused on making their home a personal oasis. Now that we've experienced how difficult it is to be confined to your house for an extended time, it's hard to imagine going through something like this again! For this reason, many people continue to make additions to their homes, both big and small.

Kitchen upgrades, like larger pantries and roomier refrigerators and freezers to hold extra supplies, are becoming more popular in 2021. Many homeowners have also been upgrading their bathrooms for more of a spa-like feel, and soaking tubs and freestanding tubs are becoming more popular in response. Some may even go further by installing actual spas, saunas, pools, or hot tubs! These improvements will become even more beneficial when it's safe to throw large parties at home; many people are looking forward to inviting friends and family over to enjoy their newly designed backyards and cozy, spacious living rooms.

Of course, the home office is one of the biggest things that's changed in the world of home design over the past year. While once considered a luxury, many Americans have found it necessary as the pandemic and subsequent shutdowns forced us to work from home. When you're hopping on Zoom calls with clients or discussing sensitive material over the phone, you don't want to be sitting at the kitchen counter.

Instead, many homeowners have focused their energy on creating a productive and functional home office space. A spare bedroom can easily be redesigned for this purpose; add a spacious desk, shelving units to keep yourself organized, and even upgrade to the latest tech, whether that's trading a laptop for a desktop computer or purchasing an external webcam for those video conferences.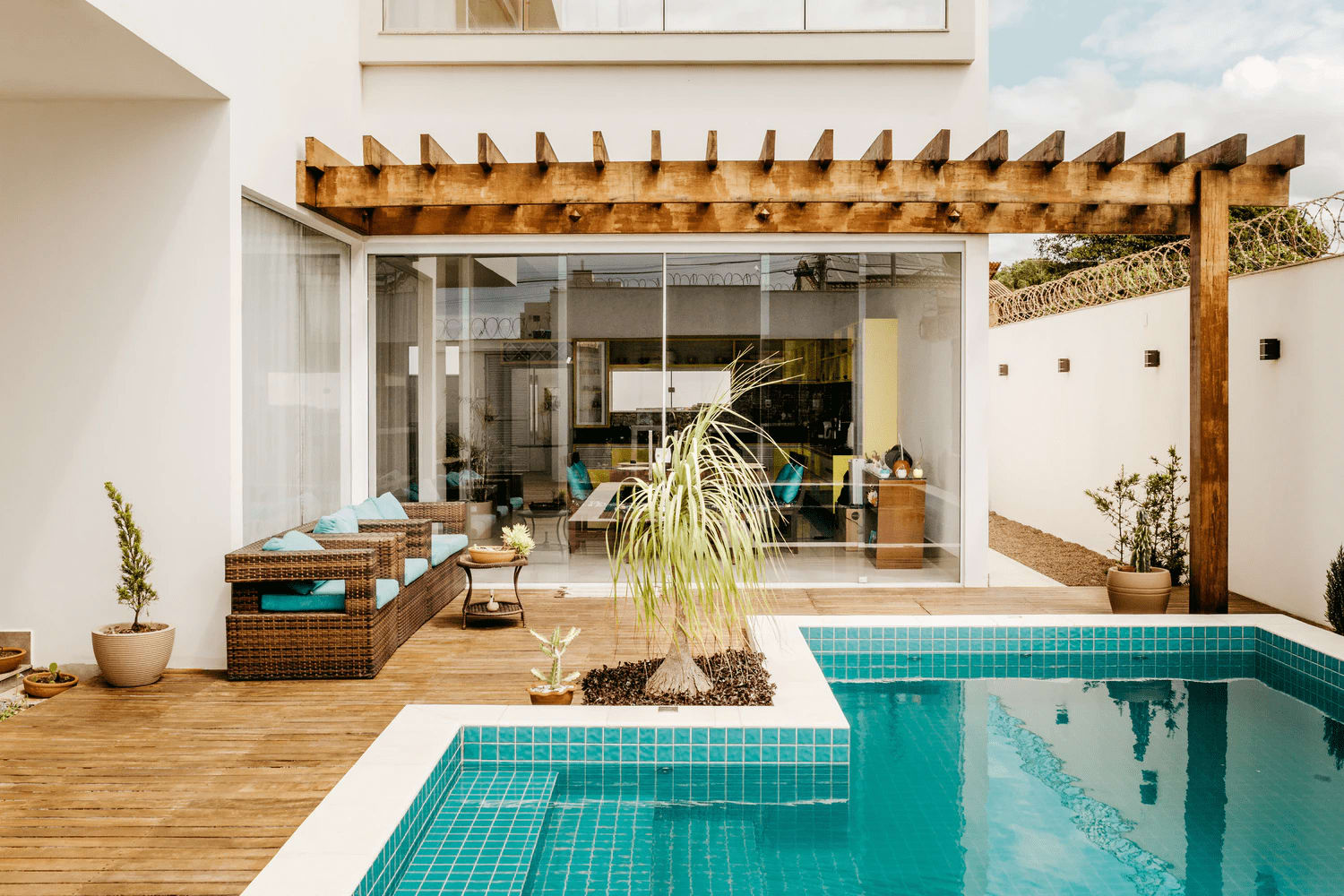 4. Year-Round Outdoor Living
Here in San Diego, most people are accustomed to enjoying the great outdoors year-round; in fact, it's one of the nicest parts of living in Southern California. A connection to nature is vital to your mental and physical well-being, so it's no wonder home designers have seen a trend in expanding outdoor spaces.

Especially in San Diego, outdoor expansion is an easy way to make your home a more pleasant place to be. Outdoor kitchens are increasingly popular; typically located near the swimming pool, these spaces are often partially covered and can consist of grilling equipment and mini-fridges, perfect for entertaining! Some people have even added amenities like televisions and comfortable outdoor furniture to these spaces. This is great when you want to invite friends over to watch the big game or to celebrate fun summer holidays like Memorial Day and the Fourth of July. No matter what time of year it is, it's great to have an option for guests to spill over into during a party, so people don't feel constrained to the living room.


5. Adding Greenery
At the start of quarantine, many people used their extra free time to take on new hobbies, from baking to biking. Gardening and plant care also became important pastimes for people looking to brighten up their homes and add a little cheer. Whereas in previous years filled with travel and work, it wouldn't have felt practical to fill your home with houseplants, this year many people found it beneficial to add a boost of greenery to their living space.

For plant care novices, succulents, and air plants make great choices; they don't require much (if any) watering and can be left to their own devices, adding a pleasant look to your living room, bathroom, or kitchen. Mini zen gardens are also growing in popularity. These are easy to make from a kit, but you can also pick up supplies at your local home improvement store.

Other popular houseplants for 2021 include the mangave (similar to an agave plant, fast-growing and textured), the uniquely shaped fishbone cactus, the blue star fern (great in low light), and the sansevieria moonshine (an easy houseplant that can thrive in bright sunshine or dark corners.)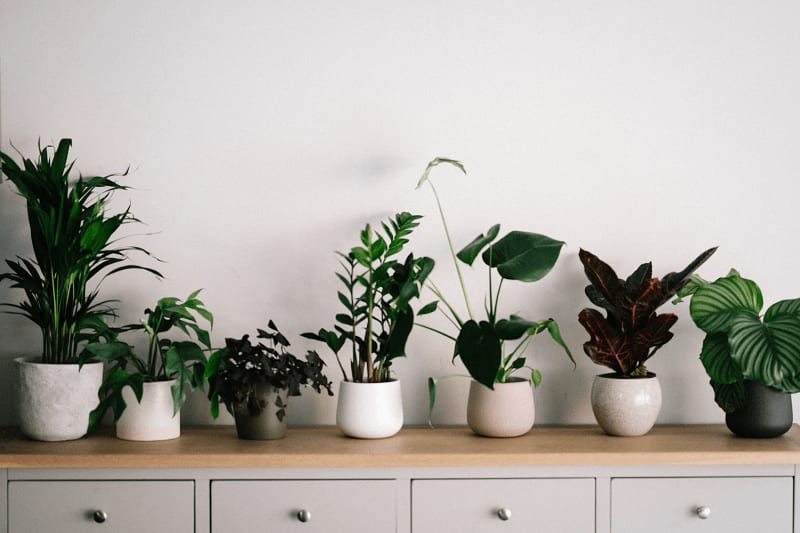 6. Grandmillennial Chic
One of 2021's newest style trends is referred to as "grandmillennial." As the name implies, the trend is popular with people in their twenties and thirties and consists of style elements that might be more recognizable in a grandmother's house. Some hallmarks of the grandmillennial style include chintz and ruffles, Laura Ashley floral prints, monogrammed hand towels and linens, and scalloped lamp shades.
For many young people, embracing a perhaps more formal style represents an embrace of classic elegance and making a house feel like a home. Needlepoint has become incredibly popular in the past year, but with a twist: many young people incorporate funny quotes, song lyrics, or pop culture references into their needlepoint projects. Plenty of these creations can be found on Etsy for purchase. Wallpaper has also been experiencing a renaissance, particularly of the floral or Victorian varieties. This classy trend will likely continue experiencing a revival well into 2021 as more and more millennials purchase and decorate homes.
7. Planned Family Dwellings
A recent AARP survey revealed that three out of four adults over 50 hope to remain in their own home as they age rather than retiring to a senior citizen community. After the events of 2020, it's possible that these numbers could increase even further, with many people feeling the strain of living far away from their families—or not being able to visit even if they live close by. Combine that with the struggles many young people face with purchasing a home nowadays, and it's expected that there will be a major trend of homes being designed to house multiple generations.
This could mean converting existing space, like attics, basements, or spare rooms, into bedrooms and in-law suites. In many cases, this is as simple as re-furnishing a space to make it more habitable; adding a fresh coat of paint, purchasing upgraded furniture like comfortable mattresses, efficient dressers, and bright lighting fixtures, or redoing window treatments. Some homeowners are even adding guesthouses or making significant renovations to accommodate more residents.
Ready to find the perfect San Diego home of your dreams? Contact
K. Ann Brizolis & Associates
today for more information on San Diego luxury real estate and Rancho Santa Fe real estate.